Civic Pride nominee – David Webster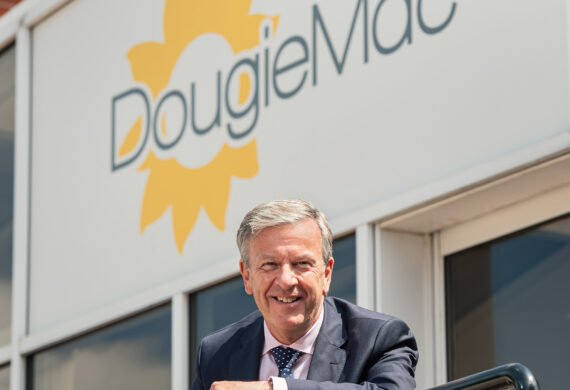 Civic Pride nominee – David Webster
As the CEO of the Dougie Mac Hospice David Webster has led one of the region's best-loved institutions through a global-pandemic, a merger and into its 50th anniversary year.
Now based across two sites in Stoke-on-Trent and supporting people of every age, the Dougie Mac provides care for more than 3,000 patients every year.
David Webster has been at the helm for seven years following a 14-year career as the CEO of the Hanley Economic Building Society. It's an unconventional career move but one that he says has brought him immense satisfaction.
"I have to say it's been like a new lease of life for me and has given me a very different perspective on so many things.
"Covid in particular was a really intense period during my time here, ensuring that services for patients could continue.
"I do feel that I'm the custodian of an organisation that is very close to so many people's hearts."
David Webster has been nominated for a Civic Pride Award in the Your Heroes Awards by David Platt, Chair of the Trustees of the Douglas Macmillan Hospice, who cited in particular David Webster's work to merge with the Donna Louise Trust hospice for children.
He said: "David very much felt that as an organisation we had a social responsibility to support Donna Louise and ensure the people of North Staffordshire continued to benefit from services provided by merging, streamlining non-clinical functions and increasing service availability.
"David's desire to protect the vital services provided by Donna Louise and to strengthen the provision of high-quality care were supported by the Board.
"David led the amalgamation which took significantly longer than anticipated due to the global pandemic which definitely didn't make the process any easier, and in March 2021 the Donna Louise Trust finally amalgamated with the Dougie Mac creating a single hospice over two sites.
"Over the last two years the children and young adult services have increased significantly with the children's site open seven days a week 365 days a year. The Young Adult Unit is now open, providing holistic person-centered care to young adults living with life limiting conditions and there is a growing increase in the number of respite nights offered.
"For both areas there has been an increase in group activities such as parent and carers, play as therapy and siblings clubs. The amalgamation of these services means that Dougie Mac provides care to over 3,0000 patients, children and young adults in Stoke-on-Trent and North Staffordshire, of every age."
David Webster said that every business leader knows their team is everything and they are only as good as the team around them.
He said: "I've never worked with people who are so determined to do great things for families and patients. The lengths they will go to are extraordinary. It's humbling to have that around you. It's a world-class team."
He added: "I'm thrilled to be nominated for a Your Heroes Award. It's a great accolade for the Dougie Mac and makes me feel very valued.
"I'm not a local lad so it makes it even more special that a Glaswegian has been nominated for a Civic Pride award in Stoke-on-Trent. That says a lot to me. It's the cherry on the top of a phenomenal year for the Dougie Mac."