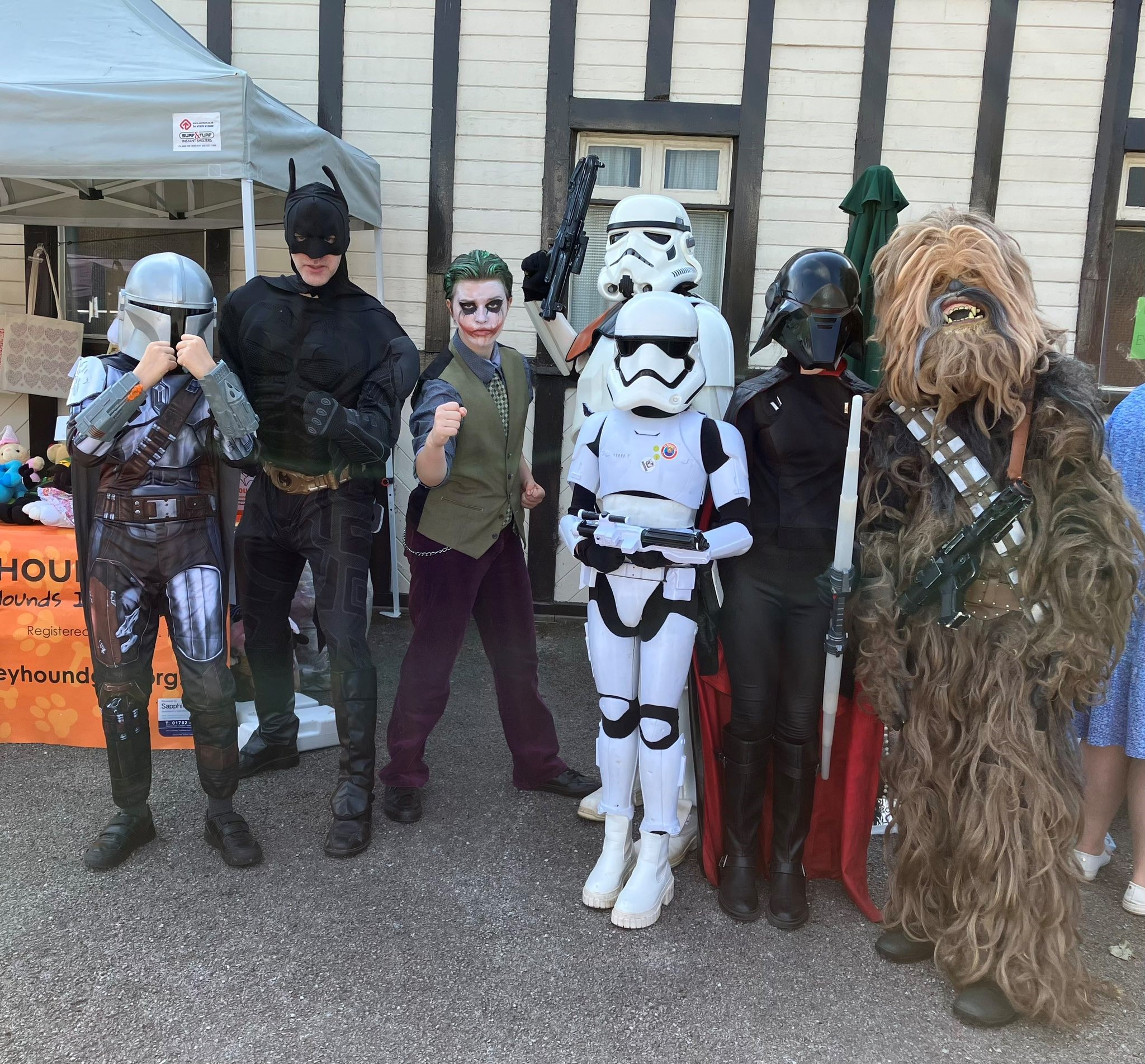 Community Group of the Year nominee – Endon Stormtroopers
Endon Stormtroopers doesn't just raise money for charity it has a special knack for putting smiles on people's faces.
Full-time carer James Biddulph set up the group four years ago with his youngest granddaughter, Nunu, now aged nine.
Their aim was to dress up to support other people with their fundraising and to put smiles on faces.
Other members of their family joined in and they soon recruited likeminded Stormtrooper enthusiasts. They now take up to 12 stormtroopers along to events.
They aim to support small charities such as Greyhound Gap, Hedgehog Rescue and an appeal for new pipes for a church organ but will always try to help if an organisation asks for help.
James, 53, is also a parish councillor for Endon and is a trustee and vice-chairman of Endon Village Hall.
He believes the group has helped to raise thousands of pounds for charity over the past few years.
He said: "We do this in memory of Matthew, our son who was killed at the age of 14. We do it to keep his memory alive.
"We help charities to raise money and we try to put smiles on people's faces.
"We set Endon Stormtroopers up before lockdown and when that happened we decided to just wander around the streets of Endon in our stormtrooper suits to raise spirits."
Endon Stormtroopers has been nominated as a Community Group of the Year in the Your Heroes Awards by Nat Campbell.
She said: "Endon Stormtroopers make a point of helping the smaller charities. Their main aim is to have fun and to put smiles on people's faces."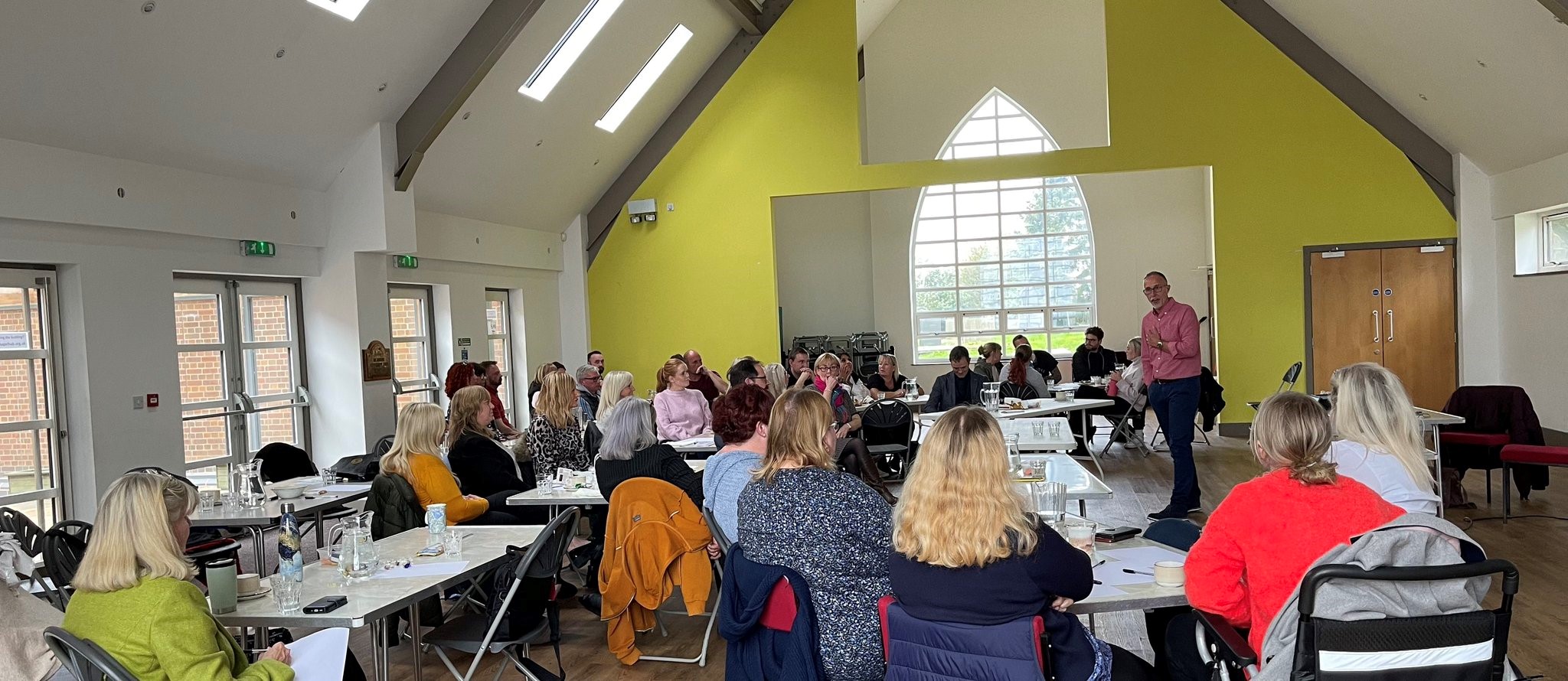 Community Group of the Year nominee – Saltbox
The Saltbox was set up 40 years ago and has established itself as a key charity and faith organisation in Stoke-on-Trent.
Today Saltbox employs 60 staff, has more than 50 volunteers and its three caring services, Restart, CareLink and Money Matters, support around 500 people in need at any one time.
Restart provides housing and support for 125 ex-offenders. CareLink supports 300 elderly people with a telephone support service. Money Matters provides a debt and benefits advice service for Stoke-on-Trent Foodbank's 16 distribution locations.
Saltbox also provides support for the city's 150 faith groups and hosts the city's Annual Civic Prayer Breakfast which is now one of the largest such events in the UK.
Saltbox's reputation has grown both nationally and internationally as it has modelled the importance of faith groups connecting with other statutory and voluntary sector partners.
Now it has been nominated as Community Group of the Year in the Your Heroes Awards by Chief Executive Lloyd Cooke.
Lloyd said: "I'm making this nomination to show Saltbox's staff and volunteers how brilliant they are and to give them recognition for their hard work.
"Saltbox is committed to strengthening our communities and does this through the support it gives to those in need and also through its extensive partnership working. Saltbox/s staff and volunteers believe that the way you change the world is one life a time."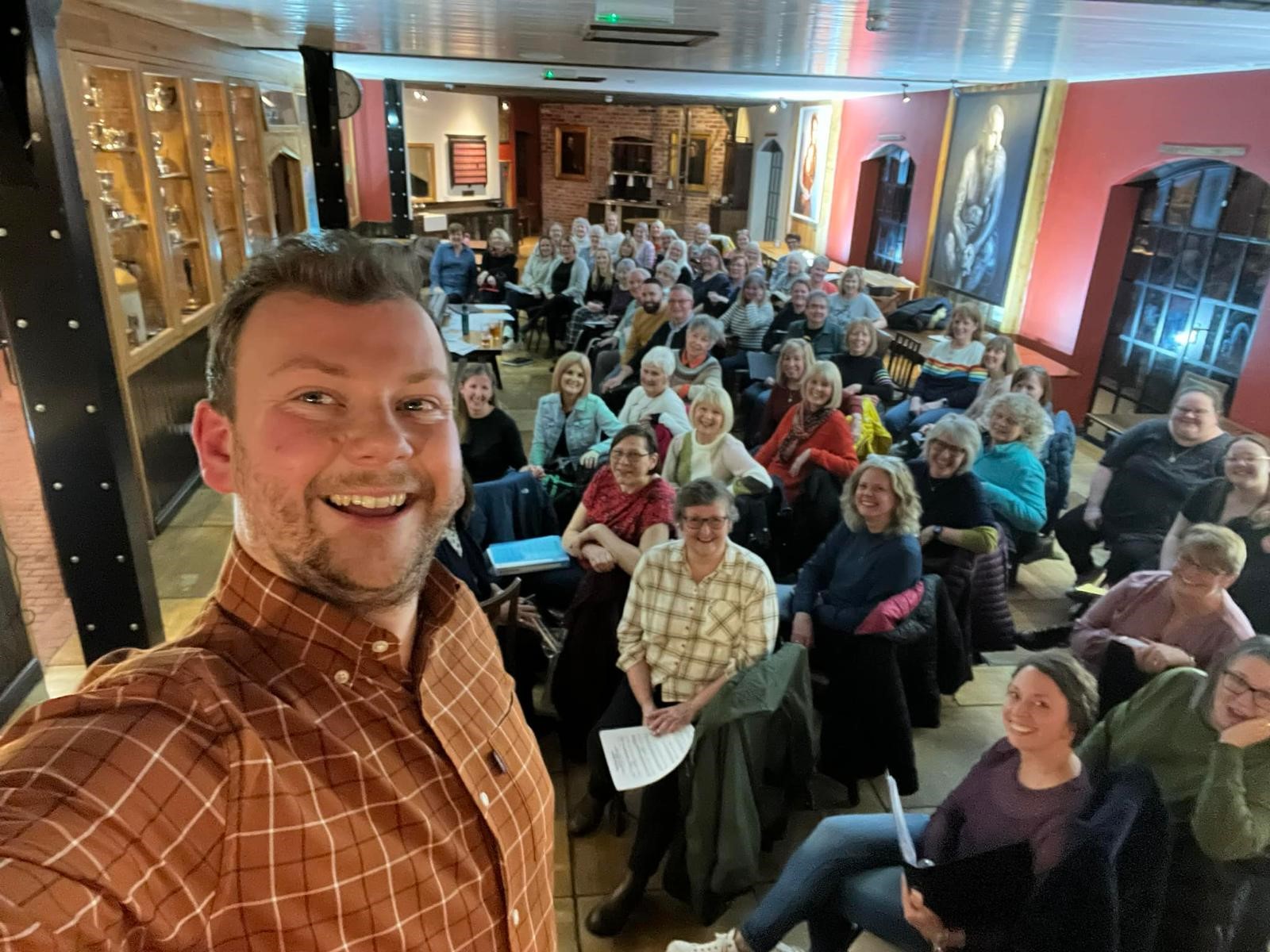 Community Group of the Year nominee – Staffordshire Choirs Association
Musical director Ashley Mellor has been told he should be prescribed by the NHS for the joy he brings into people's lives.
The 31-year-old, from Newcastle-under-Lyme, is the founder and director of The Staffordshire Choirs Association.
The association, which Ashley established in 2016, now runs 30 choirs in the county
including three non-auditioned community choirs designed to open the joys of singing up to anyone.
Ashley, who trained at the Royal Northern College of Music in Manchester and was formerly the organist at Tewkesbury Abbey, is the musical director of around 20 of the association's choirs.
He said: "I just wanted to bring people together through music by creating a network to offer care and support. I purposefully wanted to cater for different levels of ability and different age groups."
The Staffordshire Choirs Association has been nominated as a Community Group of the Year and Ashley has been nominated as a Charity Champion of Volunteer of the Year in the Your Heroes Awards by Ashley's sister, Amy.
She said: "Ashley has put together a community of singers that promotes and believes in the benefits of singing for both the joy it brings and the mental health and emotional wellbeing benefits.
"Ashley truly believes in the power of music and how it can completely change, and sometimes save, lives. He has the most wonderful character that can blow the blues away in just 90 minutes and transform over 200 voices into what is the most glorious uplifting music.
"Ashley has been described as an irreplaceable joy in people's lives and has regularly been told he should be prescribed by the NHS for mental health.  He is not just a hero to me, his little sister, but a hero to over 200 people who come together every week."
Ashley added: "I feel quite honoured to have been thought about for a Your Heroes Award. I do what I do because I love it and I love helping other people."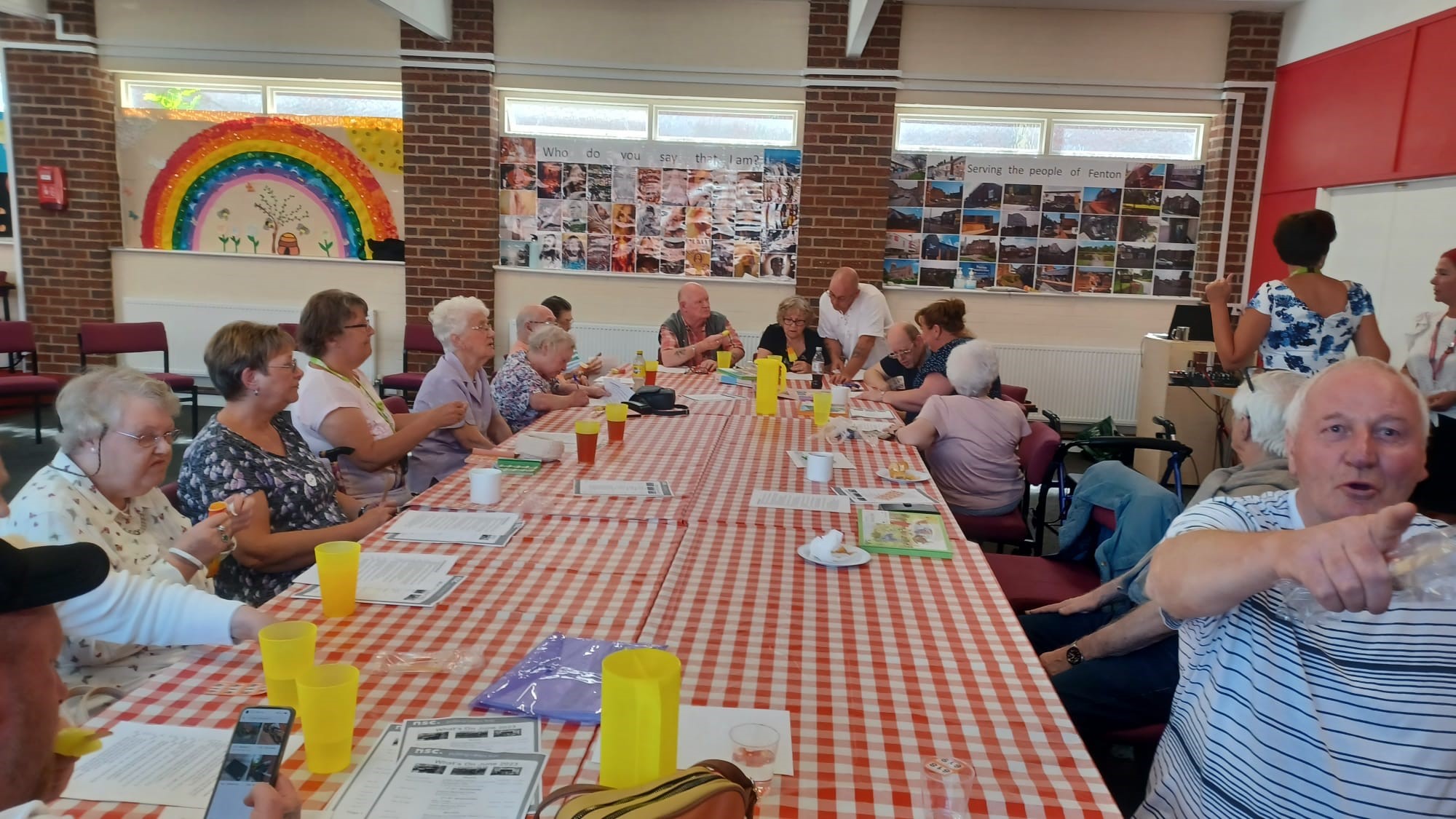 Community Group of the Year nominee – Fenton Church of Nazarene
A Stoke-on-Trent church that had been earmarked for closure due to dwindling congregations has reinvented itself as a hub of the community.
Fenton Church of Nazarene has launched four community groups over the past two years and now supports hundreds of people of all ages within the local community.
Minister Trevor Hutton was brought in to see if anything could be done to prevent the closure and to support vulnerable people within the community.
He brought together a band of volunteers and identified four key groups that needed help – people with emotional or mental health needs, people who had become, lonely, isolated or disconnected due to the pandemic, people with special needs and people affected by Alzheimer's or dementia.
"This is a church that's had a reimagination and a reinvention for the community," said Trevor. It's been reimagined for the community, with the community at its heart. We decided that it needed to be a home for the community.
"My role was the generate ideas and to bring in people from the community to support others in the community.
"The church was due to be closed but I was asked to have a look to see if anything could be done."
Community groups the church now runs include Little Lights sessions which bring together around 50 families each week including babies, toddlers, parents and carers. There's food, snacks and people are helped with nappies and baby clothes where needed.
Coffee Stop is a free, weekly inter-generational session that regularly attracts more than 30 people which Trevor says supports people with 'lots of diverse needs'.
Golden Memories, in collaboration with North Staffs Carers, runs every other week to provide support for people living with Alzheimer's or dementia and their families.
The fourth group, The Lunch Club, welcomes an age span running from babies to people in their 90s. It offers free food, company and emotional support and aims to bring about social cohesion.
Other plans currently in progress include a toddler clothing bank.
Fenton Church of Nazarene has been nominated as a Community Group of the Year in the Your Heroes Awards by Matthew Fry.
He said: "The Fenton Church of Nazarene have a great community group that organise a Lunch with Laughter on a Monday morning. They run a todder group which is run through donations and a coffee morning. This is for the local community to attend and everyone is made very welcome by the church volunteers."
Trevor Hutton added: "It's an honour to be nominated for an award and I'm sure there are many other worthy community groups. It's a privilege but I recognise that we're one small piece of the jigsaw and stand alongside other brilliant organisations to do our part to add value within the community."
"Our reward is seeing the lives that are impacted and transformed from the work we've been doing."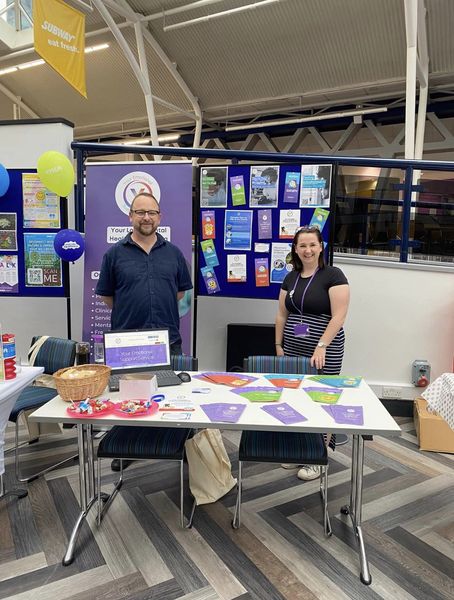 Community Group of the Year nomination – YESS
YESS – Your Emotional Support Service – has helped more than 6,000 people with their mental health and wellbeing since it was launched in 2011.
Based in Uttoxeter, the charity supports people of all ages in the town and the wider Staffordshire area.
It offers one-to-one therapy, various support groups, support resources and workshops, supporting individuals with a diverse range of issues from bereavement and loss to anxiety, stress, self-harm and low mood.
Earlier this year YESS Founder and CEO Julie Bird stood down from her post and Emily Webster became the Charity Lead.
During this change, following Julie running the charity for 12 years, the YESS staff and volunteer team have worked relentlessly to ensure the continuity of their service offer to the local community whilst maintaining staff morale and development.
YESS has been nominated as a Community Group of the Year in the Your Heroes Awards by Sarah Pritchard.
She said: "YESS has supported over 6,000 local individuals with their mental health and wellbeing needs. This has in turn touched the lives of many more members of the local community, their families, friends, peers and colleagues have all felt the benefits YESS brings to the town and to the surrounding areas.
"Without YESS Uttoxeter would not have a mental health charity to call its own. YESS is a well-established part of the town's community.
"What makes YESS great? The people. YESS is made up of a dedicated board of trustees with a huge wealth of knowledge and experience between then, an amazing staff team of well -rounded individuals who always go above and beyond to ensure the charitiy's success and of course the volunteers and placement students who help to continue to evolve YESS with their fresh thinking and new ideas.
"YESS continues to be a small, local charity however no matter how small YESS aims to make a big difference in the lives of the people it touches."
Charity Lead Emily Webster said: "It's an absolute pleasure to be nominated. The staff, counsellors and volunteers are second to none.
"The cost of living crisis has created many mental health and wellbeing issues but we can only carry on with the support of the community."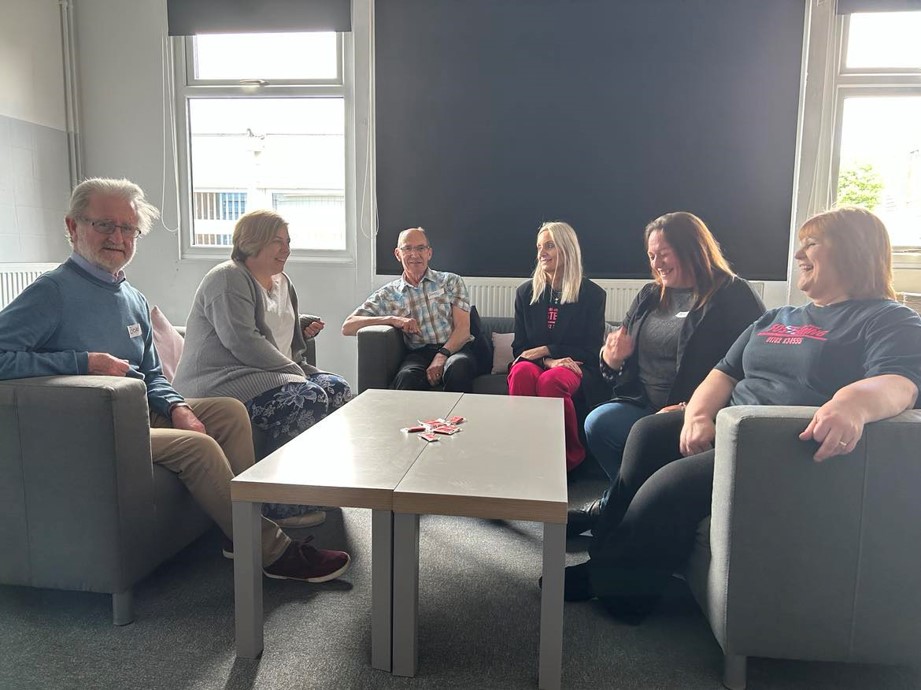 Community Group of the Year nominee – Foster Carers Association
Run by carers for carers, the Foster Carers Association supports foster families across Stoke-on-Trent.
Led by long-term foster carers Sue and Bob Yeo, the group organises days out and events as well as offering support and advice.
"As a group we are there to support people at any time of the day or night," said Sue. "It's peer support because not all foster carers want to talk to a social worker."
Sue, Bob and their fellow committee members are all unpaid volunteers who run the FCA as a not-for-profit rather than a charity.
"We recently had a fun day for 270 people and we're organising a day trip to Blackpool Air Show," added Sue. "Every penny that comes in goes back out again."
The Foster Carers Association has been nominated as a Community Group of the Year in the Your Heroes Awards by Marie Plant, Fostering Recruitment Officer at Stoke-on-Trent City Council.
She said: "They tirelessly raise money each year so that they can deliver amazing days out. This includes an Easter Party, Summer Fun Day with bouncy castles, climbing walks, entertainers, food, reptiles and much much more. There's a Halloween Party and Christmas Party and at every party all of the decorations and food is provided. There is also a children's entertainer, fancy dress, tattoos, face painting, disco and much more.
"These events are a safe place for looked after children and we have more than 1,000 in Stoke-on-Trent alone. All events are open to foster carers' own children and extended family too.
"It's a safe place where no children will be judged or frowned upon, as many of our children struggle with emotions and struggle to understand social protocol.
"Alongside this they also plan trips to Southport, Blackpool and Llandudno at a really reduced cost. They also arrange trips for the older children to go tobogganing if they don't want to go to the Christmas party.
"I cannot stress enough the hours of work that go into planning these events, never mind the amount of work on the day.
"Foster carers are such amazing people. They care for our most vulnerable children and my belief is they need full recognition for the amazing work they do."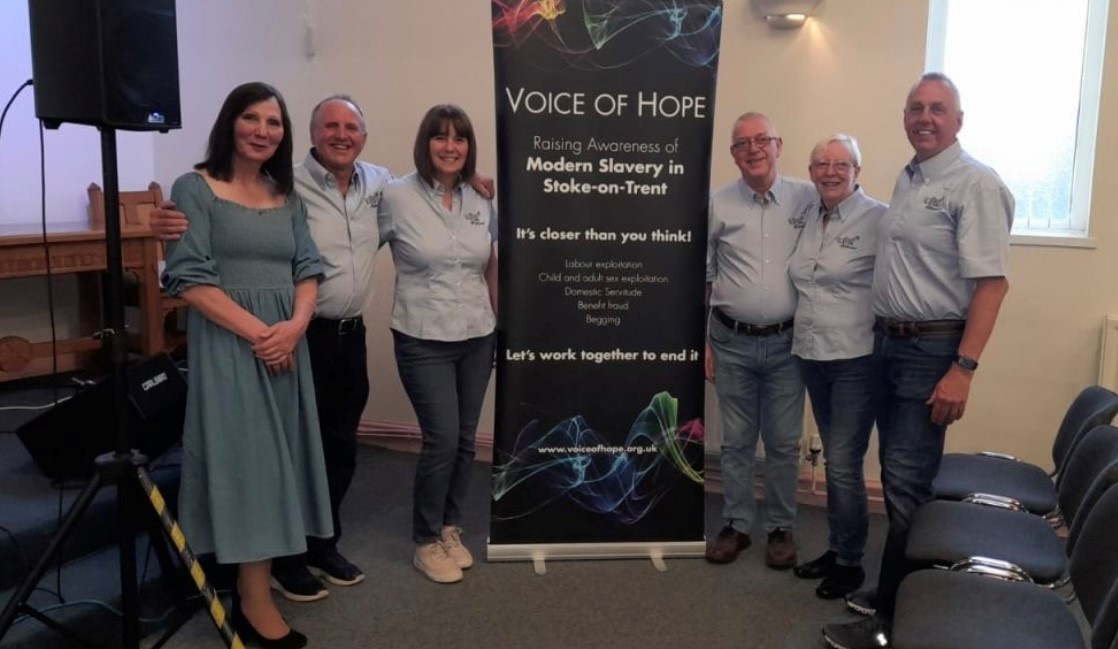 Community Group of the Year nominee – Voice of Hope
Ann Grainger has dedicated her life to tackling human trafficking and modern slavery after her Staffordshire University dissertation opened her eyes to the scale of the problem.
She founded a charity, Voice of Hope, has gone on to deliver awareness sessions for 20,000 practitioners around Stoke-on-Trent and delivered school sessions to more than 4,000 young people in the past 18 months in partnership with Staffordshire Police.
"William Wilberforce said that you can look the other way but you'll never again say that you didn't know, and that's how I feel about human trafficking and modern slavery," said Ann. "Once I realised how big this is I couldn't walk away."
Ann, from Milton, is now CEO of the Stoke-on-Trent charity that has a team of three staff and is recruiting for a fourth.
She set up Voice of Hope in 2015 which coincided with Staffordshire Police establishing its modern slavery division, so they collaborated from the very beginning.
Ann and her team raise awareness amongst practitioners, work with young people, signpost people reporting modern slavery or human trafficking and even step in to help people who have been taken to safe houses because they are believed to be the victims of modern slavery or human trafficking. They have now started to raise awareness of the criminal exploitation of homeless people.
"It was all because of a news article on TV," said Ann. "I thought this can't be happening today in the 21st Century. At the time it was quite a rare subject and it intrigued me. When I researched what was going on in our sophisticated world I couldn't believe it.
"I thought if this is growing at such a pace I have to do something. My grandson was born around the same time and I thought what a world he'll grow up in if someone doesn't stand up and raise their voice. That's where the name of the charity came from."
Ann has been nominated as a Charity Champion of Volunteer of the Year and Voice of Hope has been nominated as a Community Group of the Year in the Your Heroes Awards.
Making the nomination Melissa Dickinson said: "Ann had a vision and recognised that modern slavery and human trafficking was an increasing crime that was consistently increasing in our local area. Working tirelessly to establish the charity, Ann has successfully grown the charity to what it is today.
"It could be argued that Ann is doing her job, but what makes a difference is the way Ann does, the compassion she shows for the people she supports and her commitment to the charity. That's why I believe Ann and the charity deserve a nomination."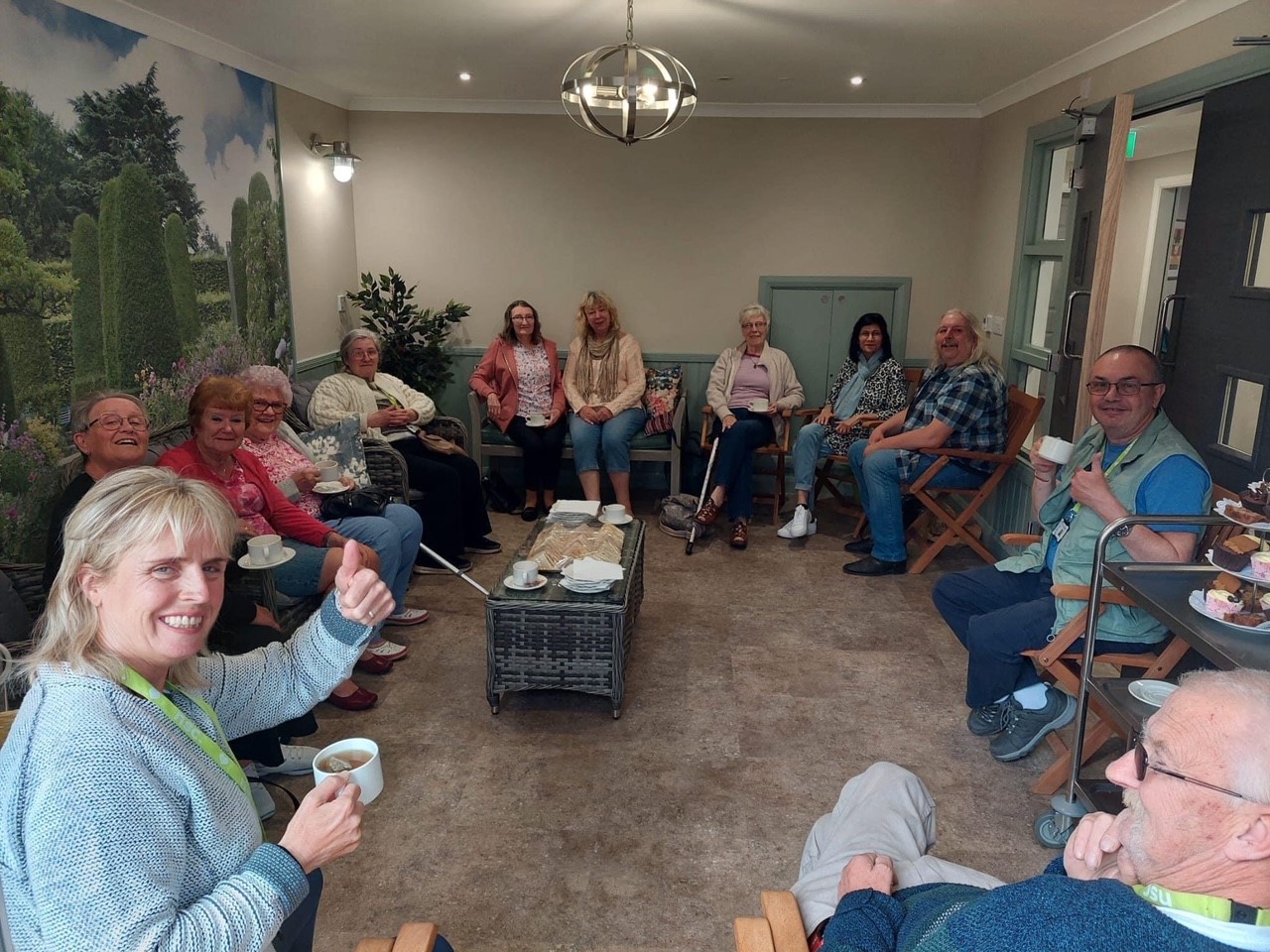 Community Group of the Year nominee – North Staffs Carers Association
North Staffs Carers Association supported 750 adult carers last year and worked with many young carers.
The Fenton-based charity, which was established in 1987, ran outreach groups across North Staffordshire attended by 1260 people.
"We have 30 volunteers and 14 members of staff, only three of whom work full-time," said CEO Julie Hammersley. "We're a little team but we do a lot of work."
The support Julie and her team offer ranges from one-to-one sessions and peer support to advice about benefits and wellbeing services.
"We do work closely with a lot of organisations within North Staffordshire but the difference is that our remit is to put carers first," said Julie.
"A lot of carers aren't recognised, it's just something that they do on a daily basis. They'll say they're just looking after their family member, but who would do it if they didn't. It's important that we raise awareness of carers' issues."
North Staffs Carers Association has been nominated in the Community Group of the Year category of the Your Heroes Awards by Anna Capper.
She said: "North Staffs Carers go above and beyond to offer a range of support groups and activity groups to unpaid carers and their families.
"Supporting carers from aged five years upwards, in the last 12 months they have vastly expanded the groups and taken them all over Stoke-on-Trent and North Staffordshire to reach carers who may not be able to travel.
"The groups offer support, advice and friendship for those on the caring journey."
Julie said she is very proud that her team has been nominated for an award.
She added: "This is amazing. We work with a lot of carers who go on to become volunteers themselves in time. Our groups are all about helping people to find themselves again and do things they thought they'd never do again."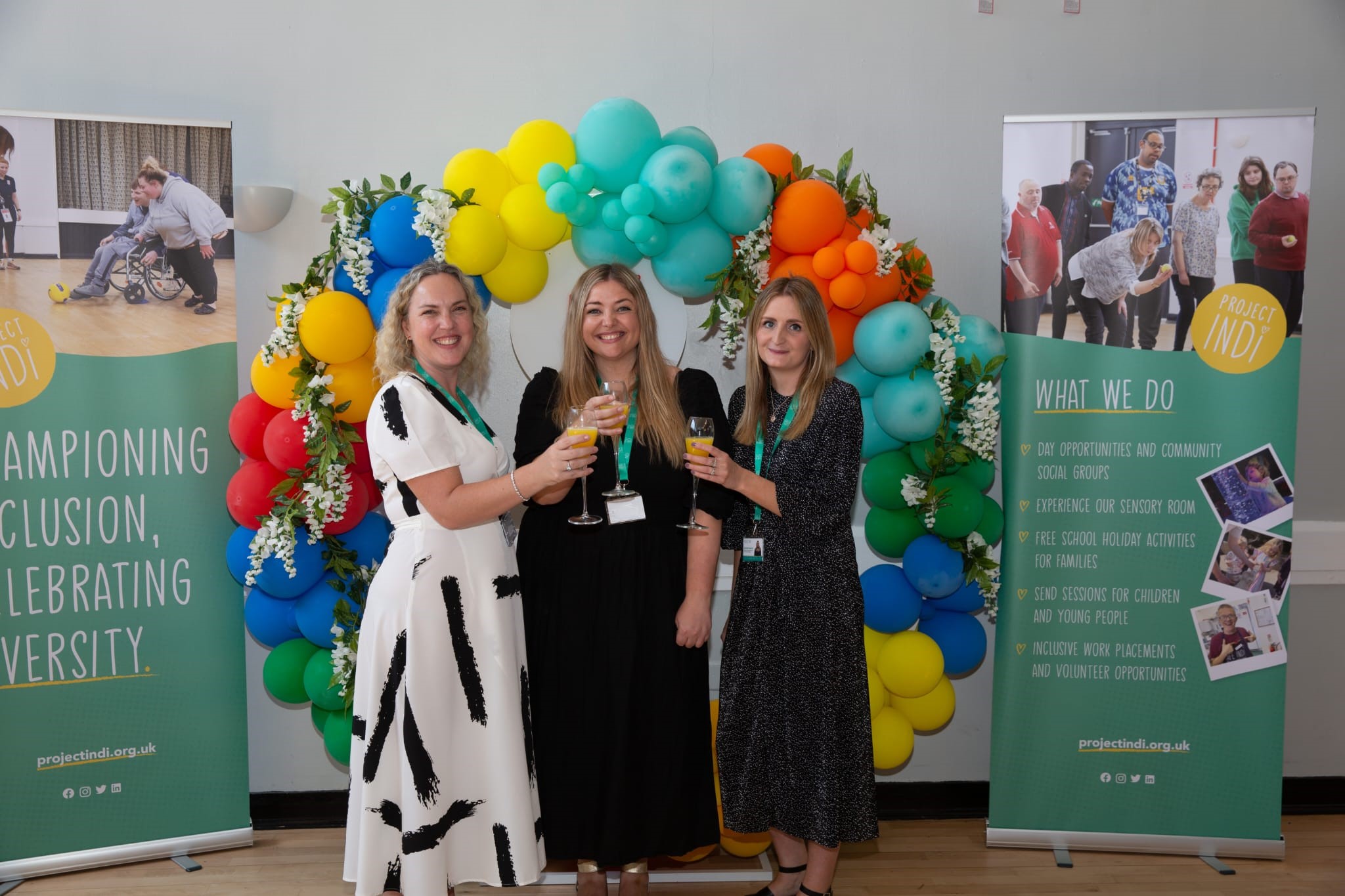 Community Group of the Year entrant – Helping Angels
When former care manager Natasha Gratton set up a 'small community group' in 2018 her aim was to help a few vulnerable adults.
Helping Angels and Project Indi now work with around 250 people every week and mum-of-two Natasha has given up her day job to run it full-time.
The group operates out of the former Sneyd Green Community Hall, now known as the Indi Club, operates Café Indi out of The Pavilion at Burslem Park and works in the Lodge at Hanley Park.
The café, which is open to the public, was set up to provide inclusive work placements for members of the group and help some to move on to jobs in the community.
Mum-of-two Natasha, from Milton, has always worked in social care and specialised in working with people with autism and complex needs.
She said: "What I do now is a 90 hours a week job. It's a really rewarding job but it's stressful sometimes because every single day I have to fight for people to get what I feel they should be naturally given."
Natasha has been nominated as a Charity Champion or Volunteer of the Year in the Your Heroes Awards by Chloe Keogh. Helping Angels and Project Indi has also been nominated as Community Group of the Year.
Chloe said: "Natasha is a truly inspirational charity champion. She leads local charity Helping Angels which has gone from strength to strength since its launch.
"The charity supports vulnerable adults and children and focuses on giving them confidence and independence.
"They recently refurbished and reopened the cafe in Burslem Park, which has opportunities for inclusive work placements to help build confidence and grow independence.
"There are also lots of activities running each week out of Sneyd Green Community Centre, now known as The Indi Club, supporting the local community and charity members.
"Natasha leads all of this, working so hard to make the charity a success as well as raising a young family. I am so proud to call her my friend and she inspires me and those around her every day."
Natasha said: "It's really heartfelt to be nominated for a Your Heroes Award. It's made me really emotional."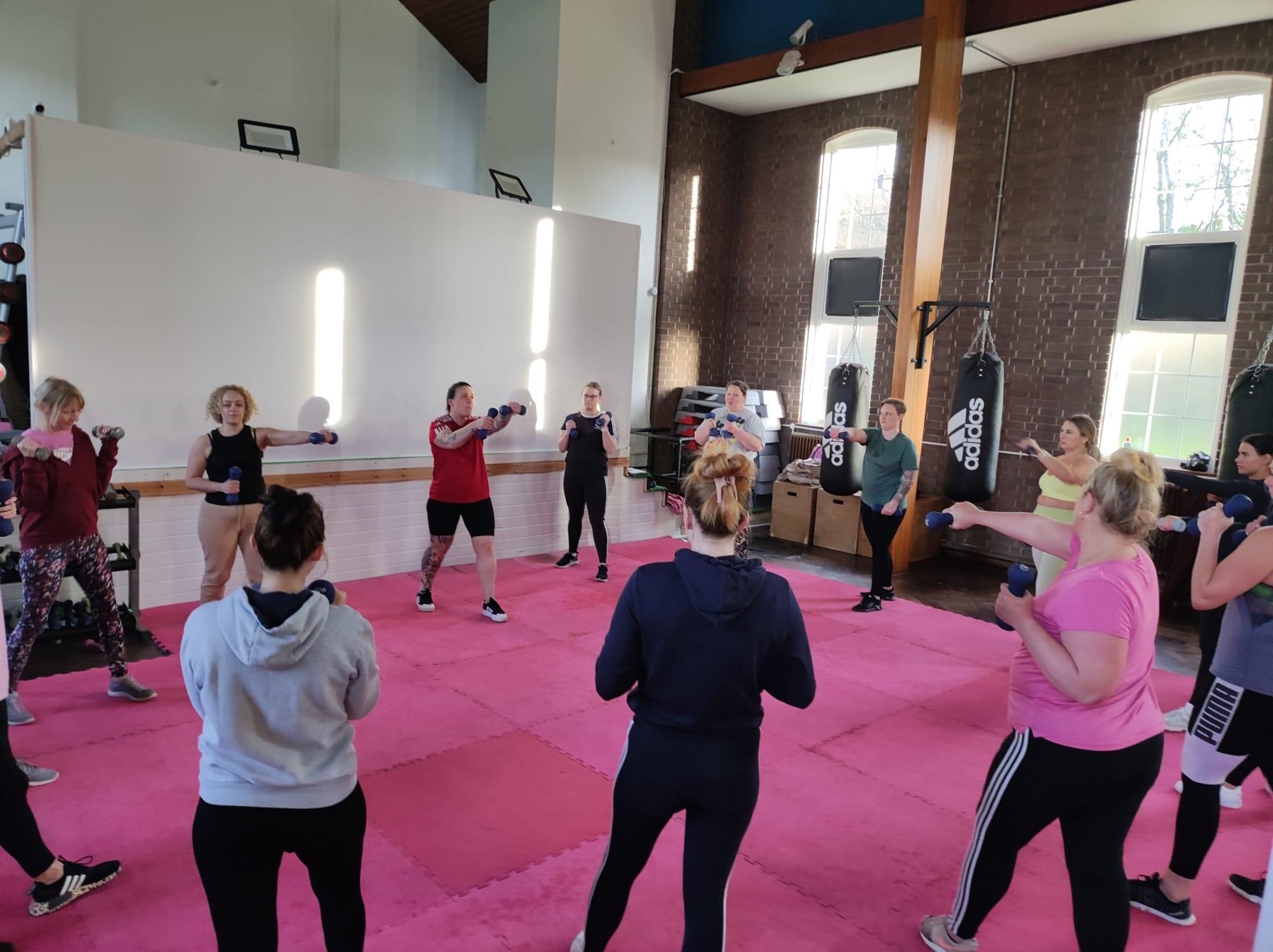 Community Group of the Year nominee – Ten Count Boxing Gym CIO
A boxing gym based in a former church in Bentilee creates community cohesion, builds self-esteem and helps people overcome depression.
Ten Count Boxing Gym CIO moved to Bentilee two years ago after being set up a decade ago by co-founders and former professional boxers Lee Jones and Max Maxwell.
Now a registered charity, it runs fitness sessions for people of all ages and abilities alongside working with amateur boxers.
Ten Count has been nominated as a Community Group of the Year in the Your Heroes Awards by new-mum Laura Bailey. Both Laura and her teenage daughter attend Ten Count sessions.
She said: "I feel they deserve recognition for what they have created and cannot wait to see their further support of the community. One lady spoke to me and said they helped her personally out of serious depression, calling her to check in when she didn't attend classes and she spoke about feeling like a different person since she joined.
"I joined a few months ago, after I've had a baby and started with the ladies classes as I lacked confidence to train in mixed but I soon felt my fitness and well-being had improved and now do multiple and different sessions according to what is convenient.
"The gym has also supported my gay daughter when she was experiencing severe bullying and encouraged her to attend to support her emotional wellbeing.
"It really is a brilliant place that deserves recognition. I see different ethnicities coming together at Ten Count. It's building community cohesion."
Ten Count aims to use exercise and boxing to improve the self-esteem, confidence and health for children and adults.
It organises free or subsidised family day trips and offers nutritional and wellbeing advice alongside fun fitness classes.
Max, 43, said: "This is overwhelming. I don't look for praise or approval. I just do what I do because I enjoy it and that's me. It's nice to know that you're doing something that people enjoy and that is of benefit to them."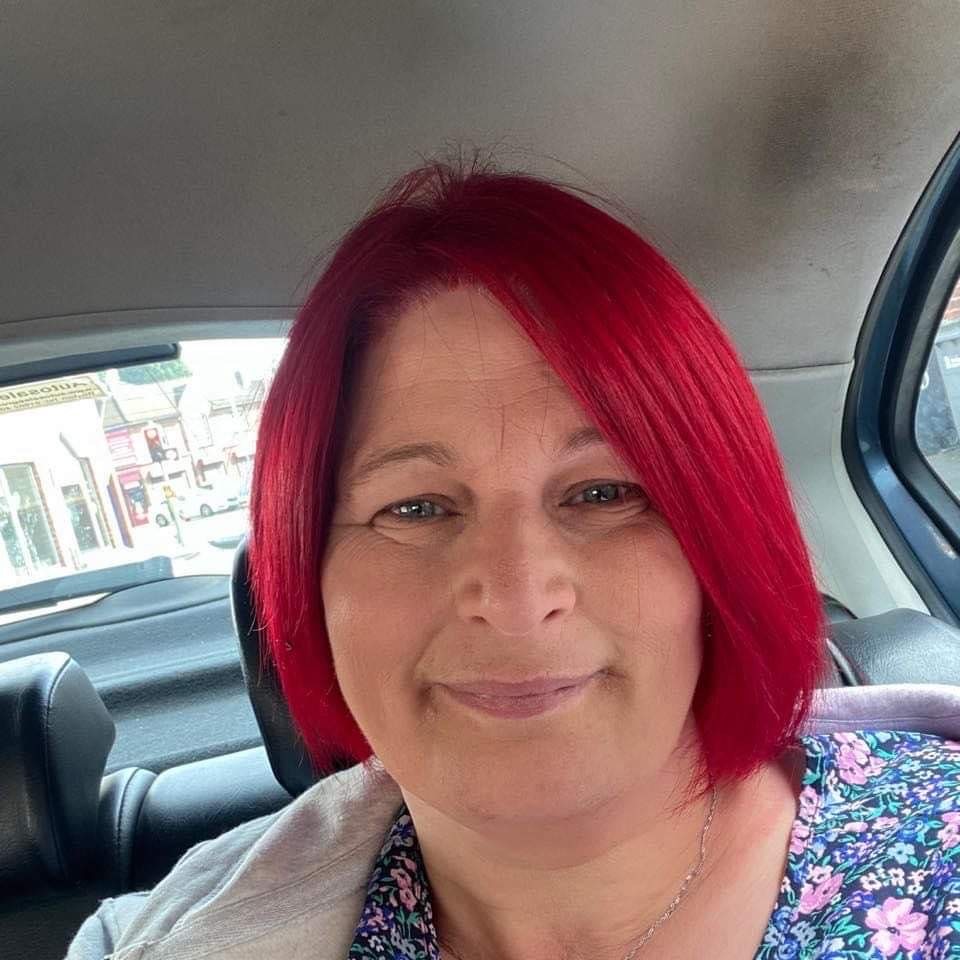 Community Group of the Year nominee – PEGIS
As a mum of four children with additional needs Michelle Craggs struggled to find the right parent support group – so she set it up herself.
The 48-year-old, from Fenton, has been running PEGIS – Parent Engagement Group in Stoke – for the past eight years.
PEGIS supports parents of children with additional needs, advocates on their behalf and runs various groups including at an in-patient unit.
Everything is volunteer-led with no paid employees, including 24/7 support for 2,400 parents. PEGIS makes no charge for its services.
Michelle, who has additional needs herself, has been nominated as a Charity Champion or Volunteer of the Year in the Your Heroes Awards by a whole string of parents she has helped. PEGIS has also been nominated as a Community Group of the Year.
Heidi-Rose Wiseman said: "My children wouldn't have the support they do currently were it not for Michelle and PEGIS. I have two autistic children, both needing specialist education. They have both been into a mental health facility, they have both tried to take their own lives.
"Were it not for Michelle I don't think I would have been able to get through any of it. My girls wouldn't have EHCPs, social care direct payments, CAMHS support, ISH support or even diagnoses so they can better understand themselves. Michelle and PEGIS are a true gem in our community."
Wendy Powell said: "The work these volunteers do helps so many families not to feel isolated or overwhelmed by the special needs system."
Hannah Gouldburn said: "I have known Michelle sit up for hours reading policies over and over again along with comparing it to the law. This ensures families who have children with special education needs or disabilities get the right support at the right time and when they don't Michelle is their voice.
"I have known Michelle to support families into the early hours of the morning and Christmas Day. She takes no praise for it. Her motto is if children can try every day to learn then she can try every day to make the system better for them."
Suzanne Pirchford said: "She is the voice of the special educational needs and disabilities parents in Stoke-on-Trent."
Keely Smith said: "This group fills a massive void in the city's support for parents."
Michelle is more likely to nominate someone else for an award than accept one herself. She says she sees it as her job to help, support and nurture parents through the system.
She said: "Somewhere today in Stoke-on-Trent a child will be born with a disability. I will continue to work in whatever role I am in to make sure that family and that child has a smoother, more supported journey and leads the best life they can.
"I'm a parent who has probably experienced 95% of the system but the real power of PEGIS and why it's unique is that it's parents working together with other parents."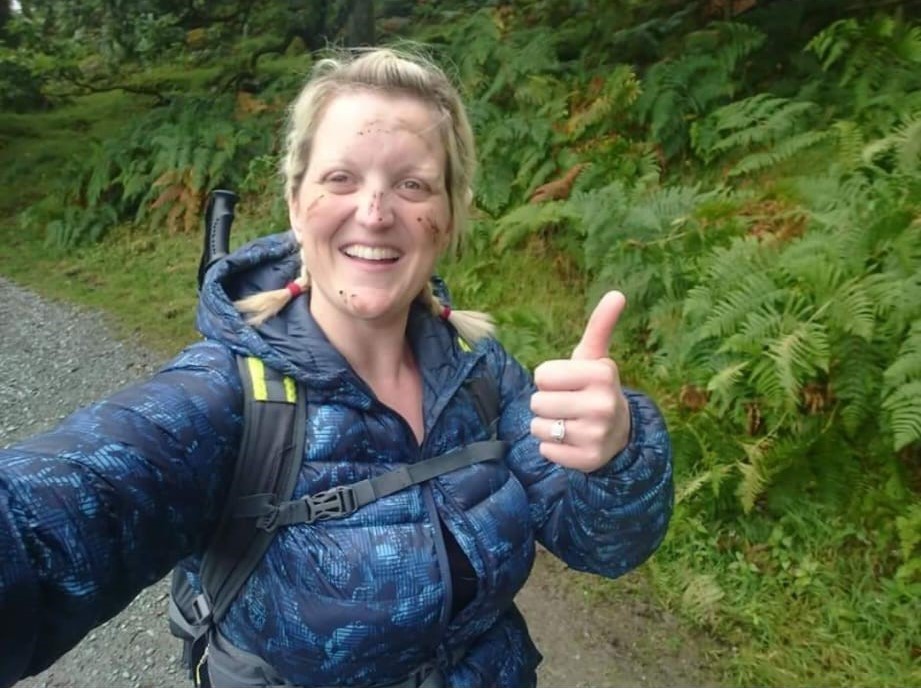 Community Group of the Year nominee – Walk Talk Action CIC
Former Army combat medic Teri Elder found that being outdoors helped with her anxiety, PTSD and postnatal depression – so she set up a community group to help other people too.
The mum-of-three, who has also experienced homelessness, gave up her job as an ambulance driver in 2019 to work full-time on Walk Talk Action CIC.
The group, based at Fenpark, has helped hundreds of Stoke-on-Trent residents including people with depression, postnatal depression, anxiety, midlife crisis, PTSD, isolation and loneliness as well as veterans and those needing support with their general health and wellbeing.
The group gets people outdoors to walk, talk and learn coping techniques to work through their problems one step at a time.
Teri secured a National Lottery grant for the group, was gifted a plot of land by the owners of Fenpark Fields and secured the donation of a portable cabin by Churnet Valley Railway.
Now Walk Talk Action CIC has been nominated as a Community Group of the Year in the
Your Heroes Awards by volunteer Laura Eyre and Teri has been nominated as a Charity Champion or Volunteer of the Year.
Laura said: "The effort that Teri puts in to help local people in their local community is limitless. Teri is Walk Talk Action and Walk Talk Action is Teri.
"I feel that all the hard work that Teri does throughout the year definitely deserves recognition and I feel that Walk Talk Action is a worthy nominee for Community Group of the Year."
Teri organises weekly community walks in and around Stoke-on-Trent, volunteer action days, 10 step programmes to help people discover what they really want out of life, weekly community coffee mornings at Meir Park and much more.
Walk Talk Action has enabled a veteran to write and publish their own book, supported adults back into education, helped people overcome their fears and given people the tools, knowledge and confidence to set up their own CICs.
The group worked with the New Vic Theatre, New Vic Borderlines and The National Lottery on a jubilee event including a free hot meal for attendees and the chance to try willow weaving and bird food making workshops.
Teri, from Meir Heath, said: "I've had a breakdown, I've had lived experience of being homeless, had PTSC, postnatal depression and chronic anxiety. I had a little girl in 2016 and at the time my partner had cancer. I didn't want to be here.
"Then I started walking. By getting out of my four walls I was free. I started organising walks for other people and organising coffee mornings using my maternity money and any spare change I had.
"I listened to people's problems to see if I could help them. It helped people to feel better about themselves and in an indirect way it was making me feel better too."
What started as a personal crusade turned into Walk Talk Action CIC. Thanks to National Lottery funding Teri was able to give up her job as an ambulance driver in 2019 dedicate herself to her newfound mission.
"I've found my purpose in life," she said. "We've helped hundreds of people back into education or employment. Once people are under the Walk Talk Action umbrella we're there to help them through everything."
Check back again soon to see more Community Group of the Year nominees