Sporting Icon nominee – Kerry Davis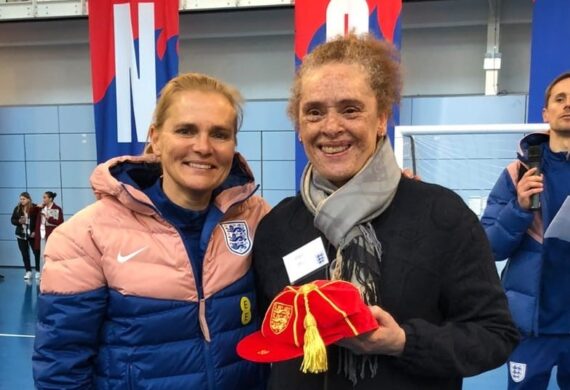 Sporting Icon nominee – Kerry Davis
Stoke-on-Trent born Kerry Davis was the first dual-heritage woman to play international football for England.
Born in Hanley and raised in Sneyd Green, Kerry played for the Lionesses for 16 years, during which she won 82 England caps and scored 44 goals.
Her first international outing was in 1982 in the tournament ahead of the first ever UEFA-run European Competition for Women's Football in 1984.
She later went on to play in the Women's World Cup in 1995.
Her playing career started at Sandbach Ladies then Crewe Alexandra before she played semi-professionally in Italy for Latzio, Trani and Napoli.
In 2022 she was inducted into the National Football Museum's Hall of Fame.
Now aged 61 and working as a civil servant, Kerry recently returned to live in Staffordshire.
She said: "I started playing football when I was aged seven or eight, playing with my dad, brother and other young boys that my brother used to knock around with.
"It was much trickier for me to find a team than it would be now. The first team I joined was Sandbach Ladies. It was a team for women and I was only 11-years-old but it was the only way I could get a game. I was a decent player."
Kerry started playing for Crewe when she was 16, from where she was talent scouted for the England squad.
She was to be the first person of dual-heritage to play for the England Women's team.
She said: "Where I grew up in Sneyd Green there weren't many families of African Caribbean heritage. My heritage is very important to me.
"I always knew I was the first player with dual-heritage but it's only as I've got older that I've contemplated what I've achieved and done."
For Kerry the standout moment of her playing career was reaching the final of the first women's Euros.
"When the Lionesses won the Euros in 2022 it made my dreams come true. It's what I always dreamt of," she said.
"I came away from the game when I finished playing because coaching wasn't really for me but I've always watched the England team and I've got a season ticket for Aston Villa Ladies."
Kerry has been nominated as a Sporting Icon in the Your Heroes Awards.
She said: "I was very proud to be inducted into the National Football Museum's Sporting Hall of Fame. There are a lot of great footballers in there. It's nice to also be recognised with a nomination for a Your Heroes Award in my home county."