Sporting Icon nominee – Nigel Johnson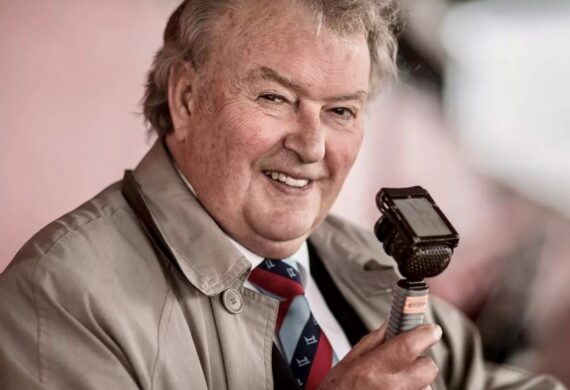 Sporting Icon nominee – Nigel Johnson
Win, lose or draw, sports commentator Nigel Johnson's voice has been a constant for Stoke City fans whatever their team's performance on the pitch.
The 80-year-old switched off his microphone for the last time at the end of the 2022-2023 football season after 54 years with BBC Radio Stoke including 44 years as the matchday commentator for Stoke City.
"I thoroughly enjoyed it," he said. "It was a privilege to have been given the opportunity to work in broadcasting and to commentate on the local football teams, in particular Stoke City. I've enjoyed every moment of doing it and the people I have met have remained friends for years.
"I've loved being able to bring to life what's happening on the pitch for listeners and have always tried to make it as vivid as possible. I very much miss it."
Nigel, who lives in Newcastle-under-Lyme, has been nominated as a Sporting Icon in the Your Heroes Awards in recognition of his decades of dedication to sports broadcasting in Staffordshire.
He said: "It's an unexpected honour to be nominated for a Your Heroes Award. If someone had told me in 1969, when I did my first radio broadcast, or in 1970, when I did my first football broadcast, that I'd still be doing it in 2023 and that people would want to nominate me for an award I'd have said no chance!"
What many people don't realise is that football and indeed broadcasting were not Nigel's main career.
He was a teacher and later a headteacher. Nigel was headteacher at The Meadows School in Madeley Heath before spending the last 17 years of his career as headteacher at Heron Cross First and Middle School.
He said: "BBC Radio Stoke offered me a full-time job in broadcasting but at the time my son had just been born and I was one step away from a deputy headship so I decided to stay in teaching and to combine radio with that.
"You always think I wonder what might have happened if I'd taken that opportunity, but I've loved the teaching profession and the chance to mould children. In particular I loved being able to give children in Meir opportunities and to see them develop."