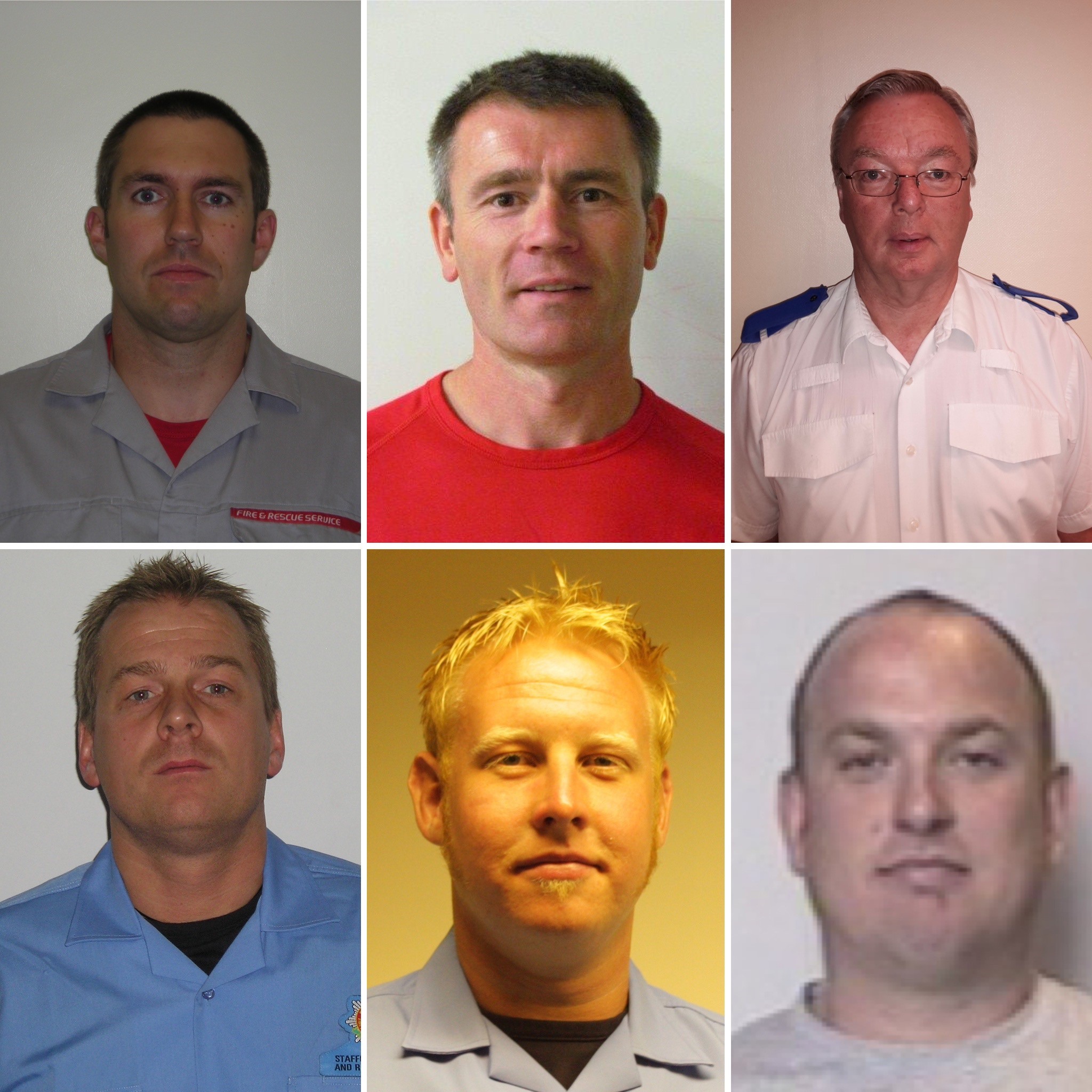 Uniformed Hero nominees – Dale Glover, Phil Salwey, Martin Bailey, Tim Bullock, Justin Cooley and Adrian Smith 
When a river training session was interrupted by the need for a real-life rescue, six firefighters took an injured kayaker to safety then returned to their training.
Staffordshire Fire and Rescue Service firefighters Dale Glover, Phil Salwey, Martin Bailey, Tim Bullock, Justin Cooley and Adrian Smith were taking part in an 'aggressive swim session' in a river in Llangollen in May when they were approached by a kayaker who said his girlfriend had fallen on rocks and had a suspected broken leg.
They quickly formulated a plan. Phil Salwey and Tim Bullock were to go to their van, get equipment out and call for an ambulance. Martin Bailey and Adrian smith were to remain on the island to convey messages while Dale Glover and Justin Cooley were to go to scene.
The woman was in severe pain and unable to move due to her injuries. Thankfully the firefighters had a stretcher, trauma kit and rescue sled which meant they could work together to transport her from the rocks to the car park up stream.
The six firefighters have been nominated as Uniformed Heroes in the Your Heroes Awards by Chief Fire Officer Rob Barber.
He said: "During a fire service training course an actual incident occurred on the river and our team affected a rescue immediately. They ensured everything was put into place and then returned to their training activity.
"All team members played their part to ensure they reached the car park safely, from where the lady was then able to be taken on to hospital."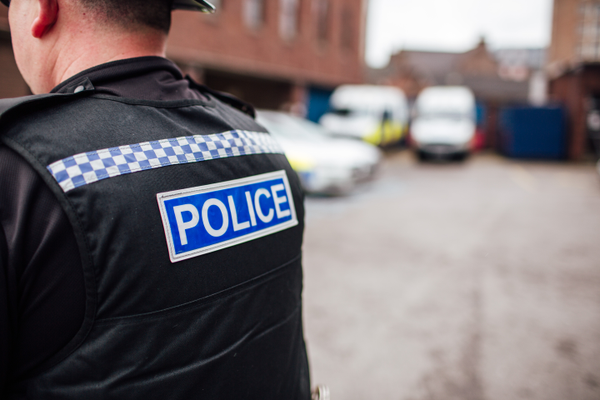 Uniformed Hero nominees – PC Reece Hingley, PC Ryan Steane, PC Ed Rushton and Sgt Miles Dolan
In the true spirit of bravery four Staffordshire Police officers battled to save lives during a horrific canal boat fire.
During the early hours of February 24, 2023 PCs Ryan Steane and Reece Hingley, from South Staffordshire local policing team, were first at the scene of a canal boat in flames.
They fought to put out the blaze using the fire extinguisher in their police car, but the fire was too fierce for their equipment to have an effect.
They were joined at Pendeford Mill Lane Canal, in South Staffordshire, by PC Ed Rushton and Sgt Miles Dolan.
With the risk of the fire engulfing neighbouring canal boats, PC Rushton put himself in danger by battling through the heat and the smoke to rouse the occupant of the nearest boat.
The officers focused their efforts on stopping the fire from spreading and were able to keep it at bay until firefighters arrived to put out the flames.
However, this was not the end of the drama for the small team of uniformed heroes. With firefighters entering the water in boats, officers located the bodies of a man and a dog from the bankside and directed firefighters to their location.
Sgt Dolan and PC Rushton were then responsible for removing the bodies from the water.
PC Reece Hingley, PC Ryan Steane, PC Ed Rushton and Sgt Miles Dolan have now been nominated as Uniformed Heroes in the Your Heroes Awards by senior officers at Staffordshire Police.
A Staffordshire Police spokesman said: "This was a freezing night and a special mention must go to PC Rushton for his particular bravery in alerting other nearby boat users to the risk of the fire.
"The incident was horrific for all involved and there was very real and credible danger to the officers who first responded and then entered the water in an effort to save lives."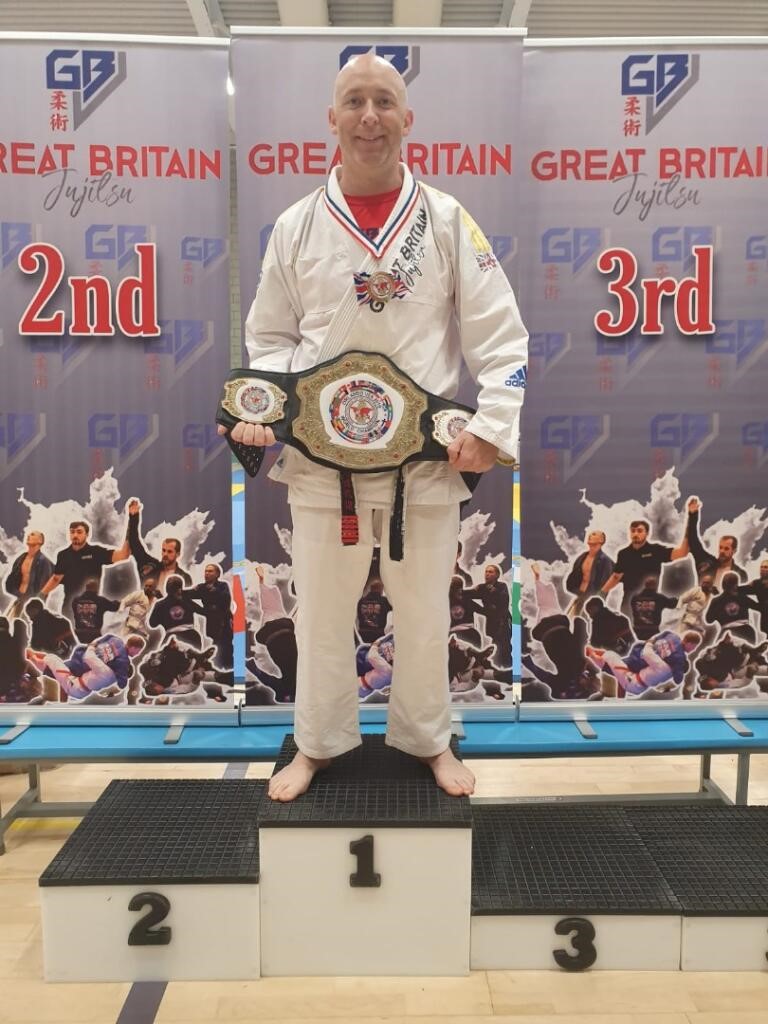 Uniformed Hero nominee –  Jon Norbury
Paramedic Jon Norbury dedicates his free time to coaching people in self-defence and martial arts, including children who are competing at a national level.
The 43-year-old, who works for West Midlands Ambulance Service, is a medal-winner himself, most recently picking up a gold at the WCJJO Ju Jitsu World Championships.
Jon, from Kingsley, has been a paramedic for more than 11 years but has been teaching martial arts for around 27 years.
He's been nominated as a Uniformed Hero in the Your Heroes Awards by Tara Louise Burndred, who coaches alongside Jon at the Tatsu Dojo.
She said: "Jon is a full time paramedic and yet still finds time to help run the Tatsu Dojo and coach children in self-defence and British Judo.
"We have children competing at national level and competing in British Judo throughout the UK.
"He is a great member of the team and we would really struggle without him. An award like this would mean so much from all the members of the coaching team."
Jon said: "I'm really surprised to have been nominated for a Your Heroes Award. I don't do it for recognition. I do this for the love of it, but it's nice to know that it's appreciated."
He added: "I've been involved with various different martial arts since the age of four. I basically got thrown into it as my dad was teaching judo from before I was born.
"I gradually started going to different clubs and doing different things. Over the years I've done many different things related to martial arts including two years running a training programme for Surrey Police."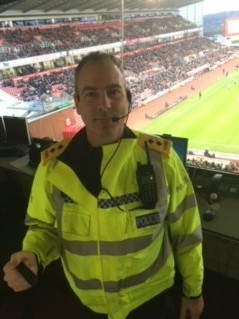 Uniformed Hero nominee – Chief Inspector John Cole
Chief Inspector John Cole has served the communities of Staffordshire for 30 years. Throughout his career he has always displayed the highest levels of integrity and selflessness, putting the rights of victims and communities first.
He has worked across the full breadth of duties with Staffordshire Police, including as a Force Duty Officer.
Most recently, John has been providing essential support to newly promoted colleagues, generously sharing his knowledge and experience.
John is known for his empathetic support for others, including those who work for and with him. Given the tough nature of policing, he has dedicated significant time to supporting others with advice, mentorship and friendship, intuitively recognising when someone might be struggling and require a supportive shoulder. Rather than turning away John holds out a hand illustrating his compassion for others irrespective of friendship.
John has helped his colleagues through the creation of training packages to support others to develop the skills required to deliver an excellent service.
In his last year of service,he has worked tirelessly to develop and deliver a 'command and control' training package, which is now attracting national interest.
The package aims to support senior officers to develop their knowledge and skills in this critical area of policing. The quality of the package is such that policing national body, the College of Policing, has highlighted it as good practise and is considering using it as a basis for a national programme.
One of John's most significant achievements has been his work bonding blue light services more closely together. He was the senior officer responsible for the Hanley co-location of police and fire services, focusing on how co-location could improve services for victims. Bringing services together can often be challenging, but his emotional intelligence, affability and enthusiasm has led to the development of a new, collaborative culture across police and fire services in Hanley, with real benefits for victims.
As John heads towards the end of his service as a police officer he continues to support the force selflessly. Working tirelessly to ensure his colleagues are supported given the unprecedented volume of calls the force now faces. John has an ability to recognise the importance of any function and how that affects the wider organisations. He also recognises consequences of actions and the need to understand the impact balanced against the success of the action.
John continues to volunteer to perform public order and firearms command roles, once again putting himself in a position of making critical decisions to protect the public.
Both of these roles come with a personal sacrifice as often rest days are cancelled and a requirement for an 'on-call' function is required. John has spent 30 years being that reliable person who will always be that volunteer to support, changing duties to ensure cover and working around core duties to provide resilience. Even in his last few months John has made personal sacrifice and cancelled annual leave to ensure the resilience in critical roles, allowing colleagues to take important leave.
Now John has been nominated as a Uniformed Hero in the Your Heroes Awards by senior officers at Staffordshire Police.
A spokesperson for Staffordshire Police said: "John has served Policing with devotion for 30 years. He has taken every opportunity to do the right thing, even if it has resulted in personal detriment. Many call him a friend, a person well known and respected across our organisation and with partners."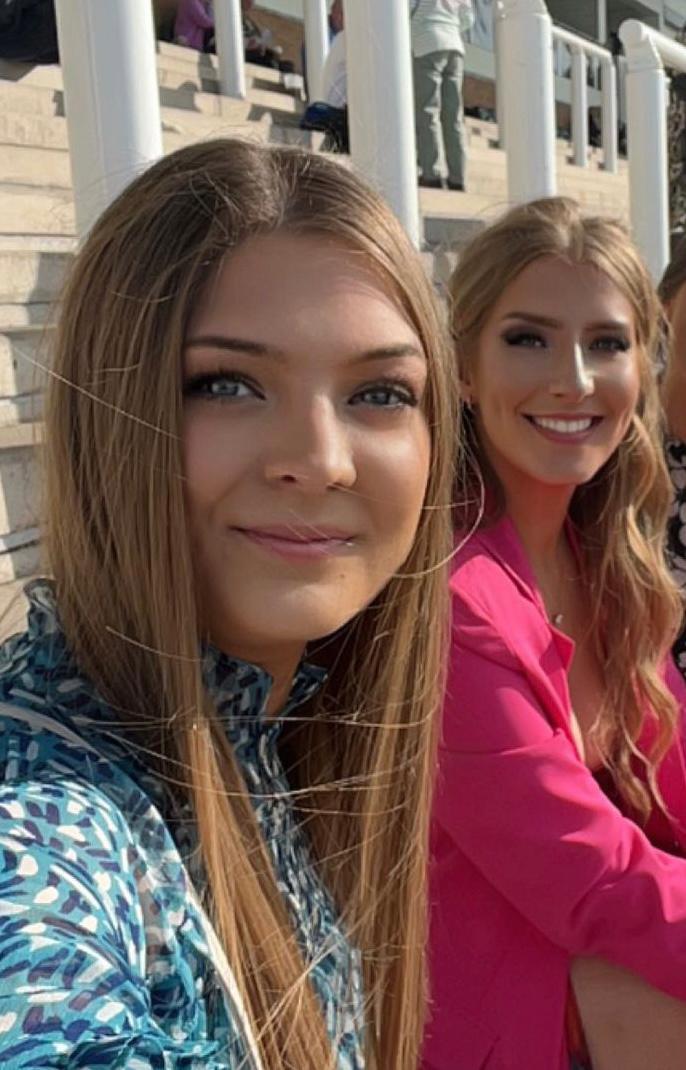 Uniformed Hero nominees  – PC Adele Thompson and PC Hollie Morris
PCs Adele Thompson and Hollie Morris put their own lives at risk to protect a woman and her children at the centre of a domestic incident.
Both Staffordshire Police officers were attacked, thrown down a flight of stairs and one was assaulted while she lay unconscious.
PC Adele Thompson and PC Hollie Morris went to a first storey flat in Newcastle-under-Lyme following an emergency call in April 2023. The male occupant became aggressive, shouting and swearing at the officers. With a woman and two small children at risk in the property, the officers tried to free the victims while de-escalating the situation and negotiating with the man.
Placing themselves between the man, the woman and the children in the small flat, PC Thompson attempted to arrest the man. He immediately attacked the officers, punching and using his size advantage to overpower them. Despite being injured the officers continued to try to handcuff the man to protect the children still trapped in the property.
During the struggle the man threw both officers down the stairs and continued to assault PC Morris while she lay unconscious at the foot of the stairs. Despite her own injuries PC Thompson attempted to pull her colleague out of the property, all the time attempting to pacify the perpetrator. Calling for an ambulance, PC Thompson administered first aid to PC Morris.
Both officers suffered injuries, some of which still require treatment. The man involved was sentenced to 21 months imprisonment, with the officers giving evidence at the trial.
Now PC Adele Thompson and PC Hollie Morris have been nominated as Uniformed Heroes in the Your Heroes Awards by senior officers at Staffordshire Police.
A Staffordshire Police spokesperson said: "In attempting to protect the victim and her children, and prevent the perpetrator from wreaking more harm, the officers showed tremendous bravery in the face of a highly dangerous situation and are a credit to the force."

Uniformed Hero nominee – BikerDown Staffordshire
A motorbike accident prevention service run by Staffordshire Police officers on a voluntary basis is helping to reduce deaths on the roads.
BikerDown Staffordshire was set up in memory of serving police officer PC Luke Van De Sande who died in August 2019 while out with friends riding his motorcycle.
Earlier that year firefighter Alex Taylor, a serving member of Staffordshire Fire and Rescue Service, had lost his life in a motorcycle collision.
Luke's colleagues within the police service wanted to find a positive from these tragedies by preventing other families from suffering loss, using their training and experience to give back to communities, reducing fatal and serious injury collisions amongst the motorcycling communities of Staffordshire and reducing the exposure of emergency service staff to such incidents.
They decided to bring the BikerDown motorcycle safety initiative to Staffordshire.
The project is led by Rob Gilligan, a recently retired motorway patrol sergeant and police motorcyclist with the Central Motorway Police Group who is now a senior policy advisor with National Highways.
The team of serving police officers and volunteers give their time freely to promote a safer
Staffordshire by using their operational experience to educate a vulnerable road user group and to reduce incidents of death and serious injury on the county's roads.
Rob said, "BikerDown is such a fantastic initiative that we immediately knew it was the best way for us to do something tangible for bikers in memory of Luke."
Working with a zero budget the team devised a training package and delivered their first workshop in September 2021.
To date they have delivered lifesaving advice to around 300 motorcyclists, including bespoke events for the British Army at MOD Stafford. They have a waiting list for future events.
By working in partnership with local businesses the team have been able to provide each participant with a free first aid kit suitable for carriage on a motorcycle.
Their efforts have caught the attention of The Royal Society for the Prevention of Accidents who featured them in the national Care on the Road magazine.
The Central Motorway Police Group has also recognised the team, honouring them with a Superintendent's Award alongside a Chief Superintendent's Award from Staffordshire Police.
BikerDown Staffordshire has been nominated in the Uniformed Hero category of the Your Heroes Awards.
PC Stuart Harman said: "It is my firm belief that the success of this initiative should be recognised and celebrated.
"These volunteers provide a service focused towards a vulnerable road user community and designed to reduce the number of people killed and seriously injured within the county and help to achieve the force's vision of a safe and confident Staffordshire, upholding the force's values of being caring and collaborative."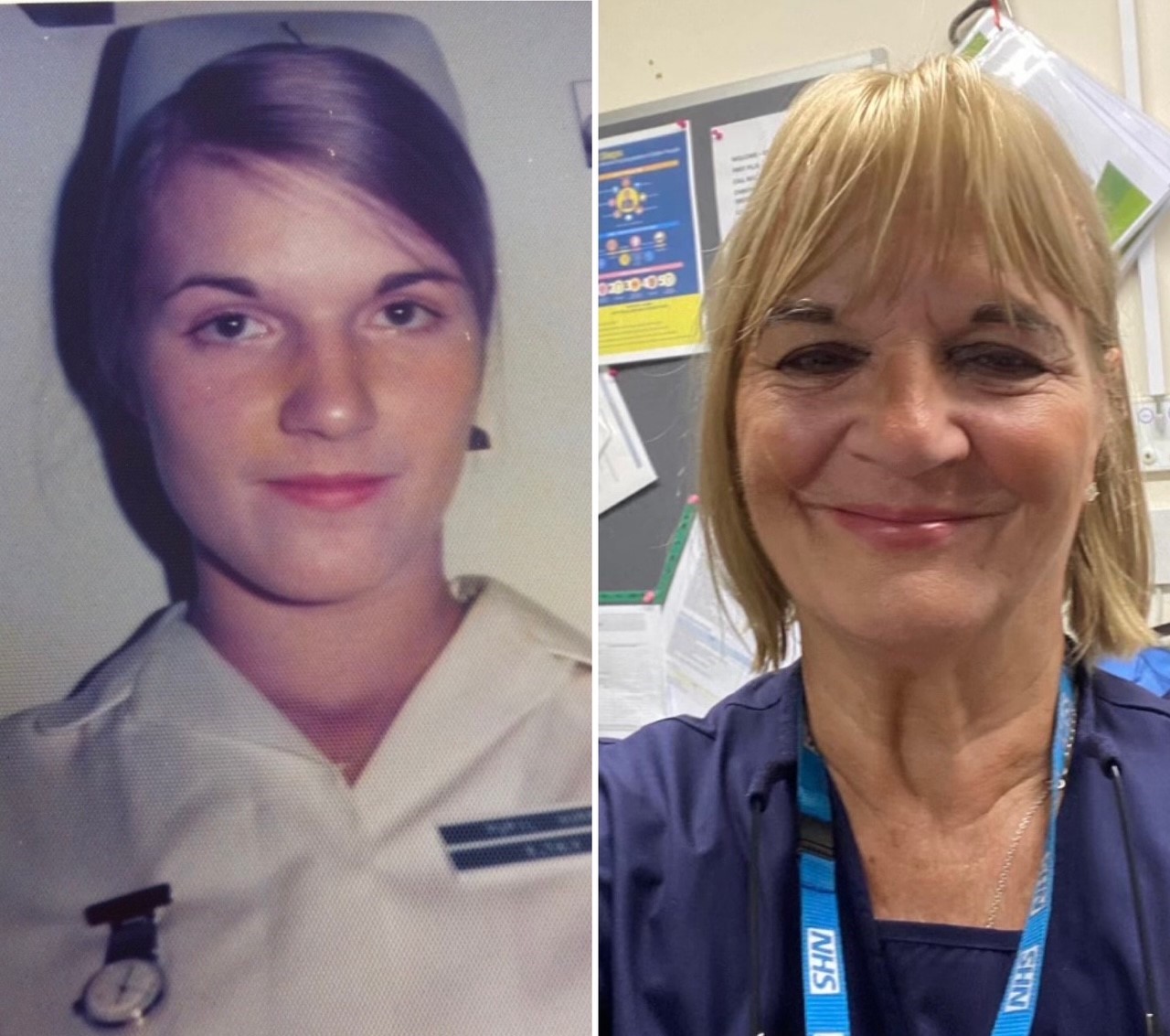 Uniformed Hero nominee – Selma Malam
Selma Malam is still working full-time as a nurse at the age of 67 and she's never had a day off sick in her life.
The gran-of-three, from Newcastle, worked in care homes throughout the pandemic and now works up to four 12-hour shifts per week as a general nurse in a care home for people with dementia.
"I don't do it because I need the money," she said. "I still do it because I love the job and I don't know what I'd do with myself if I stopped."
She qualified as a nurse 46 years ago but has worked in nursing since the age of 16 after growing up in care and foster homes.
She has worked at Stafford and Cannock NHS hospitals, at Nuffield hospitals, at around 50 different care homes and has even been the weekend nurse for the late Lord Harrowby of Sandon Hall.
Selma's work is physically demanding and often sees her dealing with end-of-life care alongside much younger colleagues.
"It's hard work but it's easy if you know what you're doing," she said. "It's a job I love so it's not a job."
Selma has been nominated as a Uniformed Hero in the Your Heroes Awards by her husband David, a retired police officer. He chose Uniformed Hero rather than NHS Hero because Selma isn't currently employed by the NHS and wasn't eligible for NHS recognition given to many nurses who worked during the pandemic.
He said: "My gorgeous wife Selma has been a nurse since she was at school, firstly working in the medical unit at Yarnfield BT College as a teenager. She then worked as a cadet at Barton Land Nursing Home in Barlaston. She did her nursing training at Stafford General Hospital in 1977 and qualified as a State Enrolled Nurse.
"Since then Selma has worked tirelessly as a nurse in hospitals and nursing homes across the counties of Staffordshire and Cheshire. Selma worked as an agency nurse for Medicare in Stone while our two sons were young, fitting her work in around their growing up.
"A lot of her agency work was done at Heliosa Nursing home in Congleton where she worked virtually every day throughout the pandemic having to wear PPE throughout her 12-hour shifts under government imposed restrictions.
"Selma is now 67 and so has been nursing for well over 50 years and as her husband I believe her dedication to nursing needs recognition."
He added: "The NHS recently awarded their staff with a medal for work done during Covid. As Selma worked for private companies she doesn't qualify for this award. I feel a Your Heroes Award would go some way to appeasing this."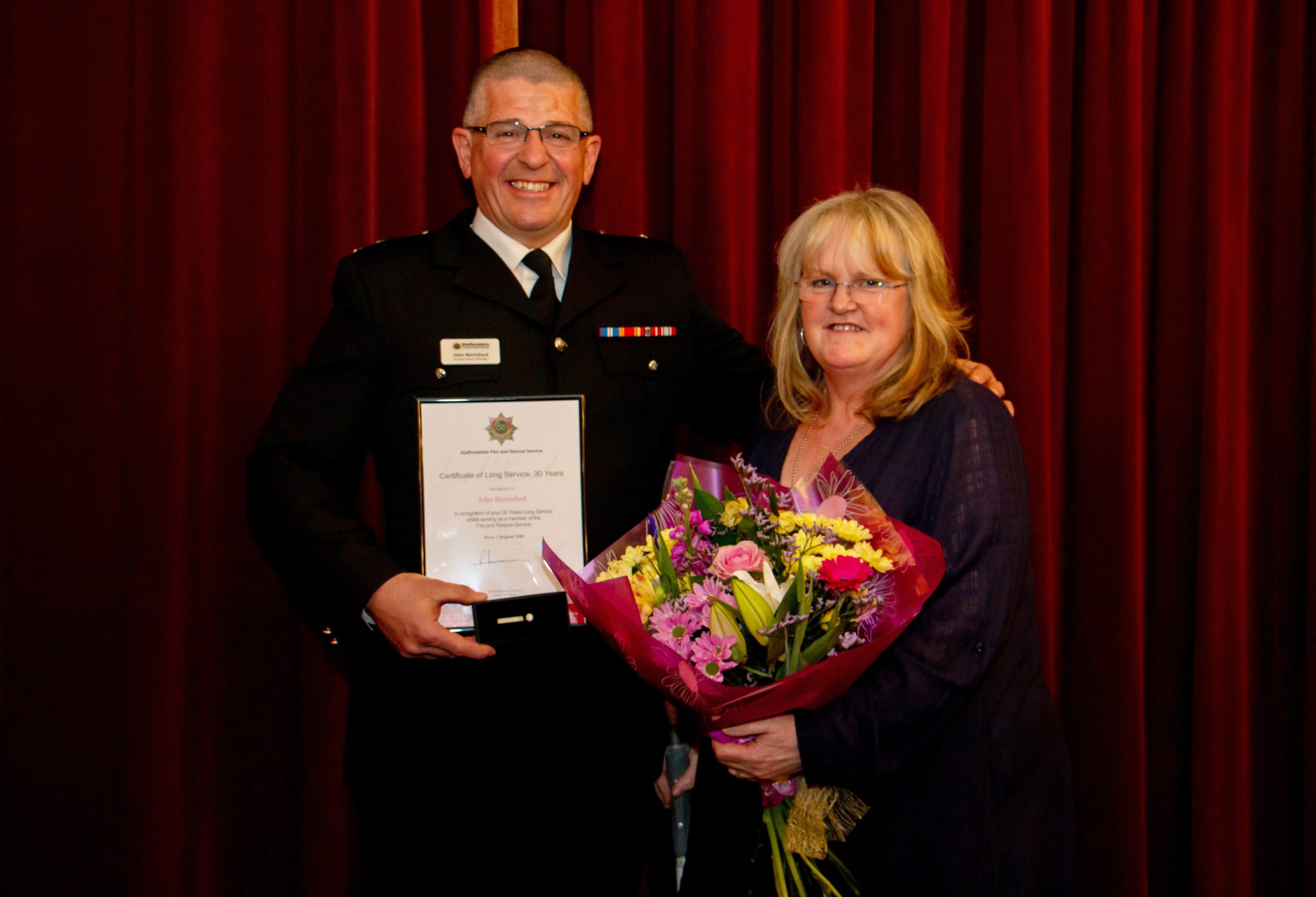 Uniformed Hero nominee – John Berrisford
Fire officer John Berrisford has served Staffordshire Fire and Rescue Service for 33 years – and now he's received the Royal seal of approval for his good conduct, loyalty and devotion to duty.
John, who is currently the Business Support Lead, based at Leek Fire Station, has received his 30-year service clasp, an honour which recognises firefighters and control staff for dedication to their careers in the fire and rescue service and the communities in which they serve.
Since 2022 the long service clasps have been approved by the Monarch and given the Royal
Warrant.  The clasp and rosette are added to the Fire Service Long Service and Good Conduct Medal, which John was awarded in 2012.
Much of John's current work involves supporting and mentoring start-up businesses and he is also on the Board of Directors of Staffordshire Chambers of Commerce where he is a business mentor.
He was named IIRSM Mentor of the Year in 2020 and received a Top 10 Enterprise Nation Advisors award from Experian in 2018, which led to John being named as the top advisor in his professional category.  John is currently an enterprise advisor at Endon High School and a member of both the Dove Service and Caverswall Village Hall community group.
He said: "I am thrilled to receive the service medal and Royal Warrant. Our Fire and rescue is much more than preventing and putting out fires. We are an integral part of the community, and it has been a privilege to impart some of my knowledge to help and hopefully inspire schoolchildren, start-up businesses and established businesses to achieve their potential."
John has now been nominated as a Uniformed Hero in the Your Heroes Awards.
Sara Williams, CEO of Staffordshire Chambers of Commerce, said: "John is a fantastic community champion and gives so much of his time to helping others. He is a tremendous asset to the Chambers whether mentoring business owners, delivering first aid training or imparting his wisdom on our board."
John added: "Serving the community is my job and I'm so proud to be able to do that, but being nominated for a Your Heroes Award is amazing.
"There are so many people out there doing great things for others and for someone to recognise the work I do is fantastic. I'm humbled but at the same time thrilled to be recognised. Thank you."
Check back again soon to see more Uniformed Hero nominees